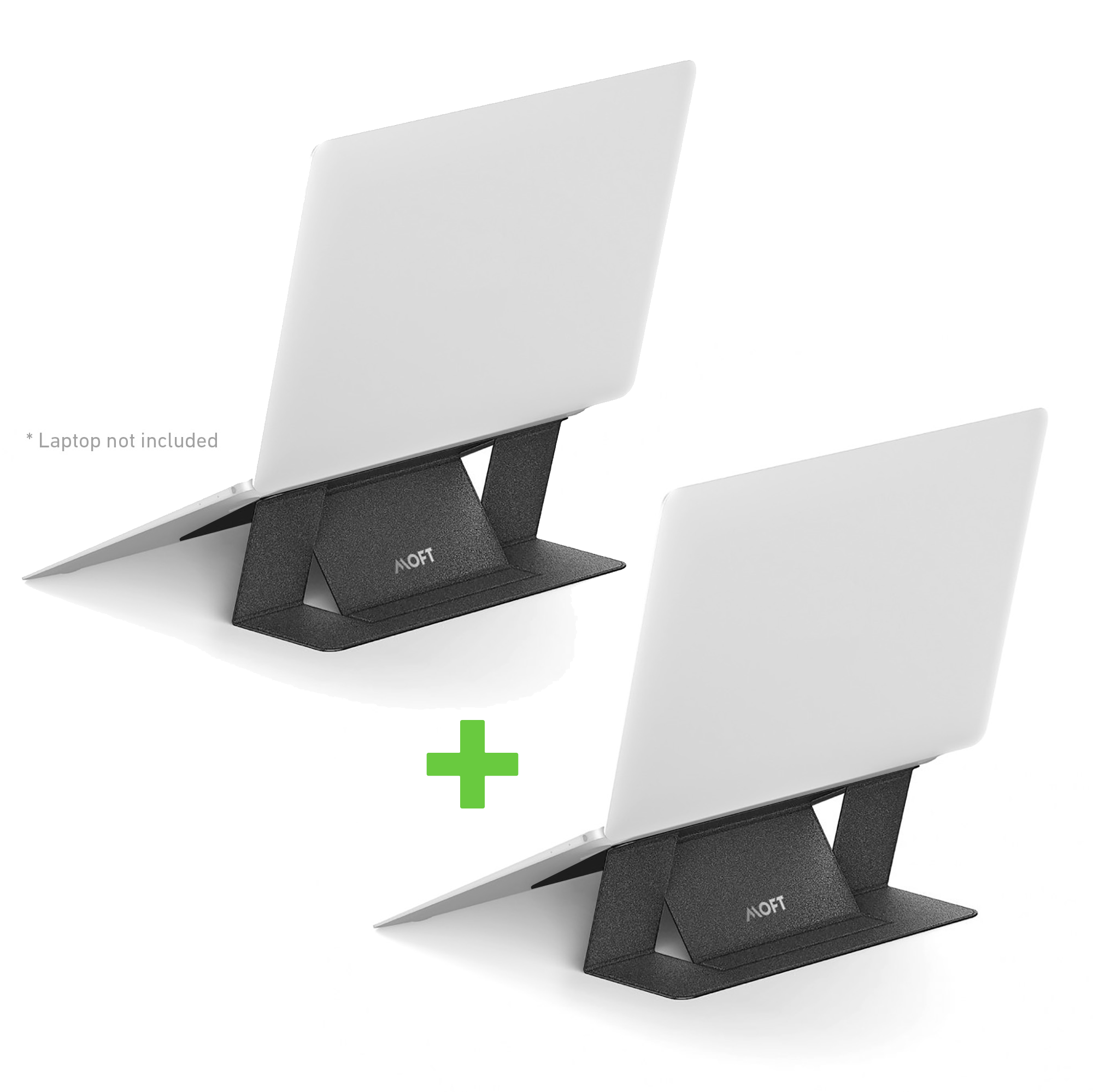 2 x MOFT - Adhesive Foldable Laptop Riser Stand COMBO
---
Delivery: 3 - 5 Working Days.
 2 x MOFT Adjustable laptop risers.
Easy to use and ergonomic MOFT laptop riser and only takes a second to open / close and folds flat to slide neatly into your regular laptop bag! Plus, MOFT is always with your Laptop, keeping you ergonomic wherever your work.
Laptops offer maximum flexibility to work anywhere, however, prolonged use of laptop use leads to neck tension, lower back pain and inactivity. Disappointed by the bulky laptop stands on the market, we set out to create the MOFT invisible laptop riser stand, which is lightweight, portable, convenient, patented and basically "invisible".
• Dimensions: 17cm x 22,4cm x 3mm
• Secured by use of: Adhesive tape
• Height Adjustments: 5 - 7,6cm
• Material: PU, Fiberglass, Removable glue
• Compatible Model: 11.6"-15.6" Laptops with no air vents underside (Not including Surface Book.)
• Adhesive attaches and removes with ease without leaving residue.
Assembly instruction video:
• MOFT is equipped with TWO elevation adjustments, so that you can easily find your ideal height and posture:
> The LOW setting (5cm) is perfect for sitting ergonomically.
> The HIGH setting (7,6cm) is great for a more upright posture. This flexibility helps prevent neck and shoulder pain while looking at your screen.
• Compatible with a wide range of Laptops - Fits up to 15.6" Laptops.
• Built-in magnets ensure you can fold away MOFT stand quickly and securely.
• MOFT stand is constructed from a PU and fiber glass material, meaning it's as stronger and more stable compared to other bulkier stands! 
• Hold up to 8kg's.
• MOFT stand's removable glue lets it conveniently attach and detach from your laptop without leaving a single mark or scratch, re-attaching with the same strong effectiveness.
Please note:
The MOFT Laptop Riser is compatible with a wide range of laptops and up to 15.7" - including the MacBook Air and Pro.
We have conducted thousands of tests, including but not limited to 30,000 times folding and un folding. As well as 200 times of adhesion removal and re-application, extreme temperature and slip resistance.
We are confident that MOFT Laptop riser is the best laptop riser stand on the market and has passed all of our tests and customer trials with flying colours.
---