Health24 defines ergonomics as "a science which tries to increase our well-being." It's true. But ergonomics is so much more than just improving well-being. Ergonomics can improve our productivity and overall health in the workplace. For many, our working lives require us to sit most of the day, which can have a damaging effect on our bodies. The first step is recognising this. The second is implementing. Learn how you can set up a healthy ergonomic workspace in just a few steps. 
Step 1: Find your natural position
Whether sitting or standing, find the position that your body is naturally drawn to. If sitting, your feet will be on the floor in front of you and your shoulders will relax as you lean back just a bit. This is your natural posture. This is the posture you want to keep when you're working. If sitting, use the image below as a guide on how to sit up correctly using the Curve Stand.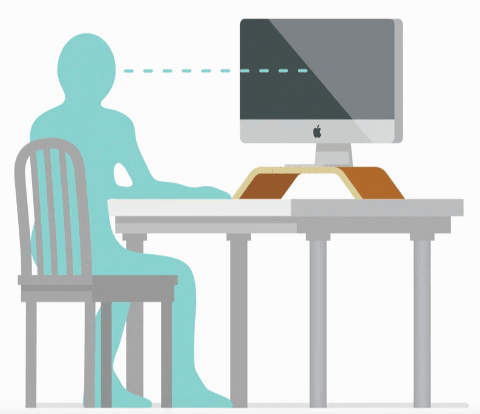 When standing, your natural position will be to stand up straight with your shoulders relaxed too. You may want to alternate between standing on different legs. Use the Anti-Fatigue Comfort Mat to reduce fatigue experienced from standing for over 3 hours. You can easily switch from sitting to standing with the JUMBO DeskStand, as seen in the image below.
Step 2: Adjust the height of your screen
Keeping your natural posture in mind (standing or sitting) and build your workstation around this position. Your screen should be placed directly in front of you, with an arm's length away from you. The aim is to keep your neck straight or in a neutral posture to avoid looking down and reduce eye strain.
Adjust your keyboard and mouse so your elbows are kept to your sides and your arms are at a 90-degree angle.
Step 3: Assess your lighting
Many forget about lighting when looking at ergonomics. The light in your workplace plays an important part in your wellbeing too as you spend most of the day looking at your screen. Can you imagine the strain this could be having on your eyes? Looking at a screen means your eyes must maintain a constant depth of focus. Long periods of screen use can, therefore, cause eyestrain, which can lead to irritation, itchiness and headaches. You can avoid this by looking away from your screen every 20 minutes, then focus on something in the distance for at least 20 seconds. You can also make use of our Clamp Lamp, especially if you work in the afternoons or evenings. It helps with concentration, eye irritation and is perfect for studying, reading or working.
Step 4: Move around
Don't forget to get up and move from your desk every 30minutes. You can also make stretching part of your working routine. If you feel strain in any area of your body, such as your wrists, for example, make the time to stretch and move that area often. You can read more about the power of stretching, here.
Step 5: Decorate
Last but not least, the way your office looks can have a direct impact on your wellbeing. In fact, office restacking is a popular term in HR departments – they know the investment they receive from decorating spaces to suit employees' needs. We have a range of furniture to help you redesign your office in a way that's healthier and happier. Our Fin Locker Planter is the perfect addition which can be used as a divider, locker storage or to simply add some green oxygen into the office. Chat to us about your office needs – we offer an ergonomic company assessment service where we assess each employee's workstation and provide the employer with an in-depth report of their companies ergonomics and activity status of their employees.